September 13, 2023
Lynx Redefines Consumer-Directed Health Account Management with Launch of CDH Core Platform
Organizations Can Now Create Their Own CDH Accounts in Weeks
Boston-based fintech company unveils Lynx CDH Core, a single platform for consumer-directed health (CDH) account administrators to offer tailored experiences, streamlined interactions and earn expanded revenue streams across banking, investments, and e-commerce.
BOSTON, MA, September 13, 2023 – Lynx, a premier API-first fintech platform for healthcare, announced the formal launch of Lynx CDH Core, the first platform that leverages fully programmatic APIs as well as white-labeled experiences to manage the full lifecycle of CDH accounts, including health savings accounts (HSA), flexible spending accounts (FSA), health reimbursement arrangements (HRA), lifestyle spending accounts (LSA), wellness incentives, and rewards. The platform enables financial institutions, third-party administrators, benefit administrators, health plans, tech companies, and other entities to fully own their experience while reimagining a more modern and consumer-friendly experience.

Before Lynx CDH Core, it would take CDH account administrators and their many partners months or even years of work to launch what Lynx APIs can do in just weeks. Lynx makes it possible for CDH administrators to easily launch and maintain a unified CDH account experience for consumers that encompasses banking, payments, investments, and e-commerce. New and existing account administrators no longer need to manage multiple vendor relationships and fragmented digital experiences, including partner banks, broker-dealers, RIAs, e-commerce partners, and more. This integrated approach simplifies operations, removes friction, and empowers consumers like never before.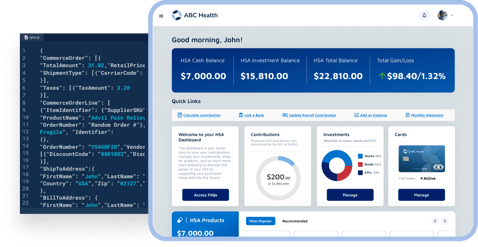 "With the launch of Lynx CDH Core, we're rewriting the narrative of healthcare financial management," said Matthew Renfro, Co-founder and CEO of Lynx. "With a unified API platform, businesses can eliminate the need to combine disparate solutions and white-label experiences. This consolidation reduces reliance on third-party systems and expensive vendors while enhancing marketing and sales benefits, providing a significant competitive edge."
In today's fragmented healthcare industry, health plans, TPAs, providers, and financial institutions operate in isolation, creating significant barriers to achieving financial security. Consumer demand for unified health and finance platforms has increased, driven by the broader digital shift across industries. Lynx CDH Core addresses these challenges by providing an end-to-end API platform that unites all CDH capabilities and vendors under a single roof. It is engineered to streamline business operations and create a seamless consumer journey, redefining how CDH accounts are managed.
Lynx CDH Core offers several key advantages for various stakeholders. Financial institutions can create a unique customer experience by displaying CDH accounts, like an HSA, alongside their checking account while eliminating a separately managed mobile app. Health plans can prioritize CDH accounts for enhanced member engagement and tap into new revenue streams through integrated e-commerce functionality. Benefit administrators can embed the CDH account experience alongside their suite of product offerings.
Key advantages of Lynx CDH Core include:
Customize the CDH experience with programmatic APIs.
Minimize Customer Friction by removing single sign-ons (SSOs) and website redirects by seamlessly integrating and fully managing CDH accounts within a single customer experience.
Advanced Payment Processing with physical or virtual cards that are restricted to only accept specific merchant categories, IDs, and even product SKUs at thousands of retailers. Lynx cards can also hold multiple bank accounts and funded benefits, eliminating the need for separate cards for each account type.



Embed E-commerce to integrate healthcare purchases into CDH account platforms, offering users access to a wide range of FSA- and HSA-eligible products, creating a new revenue stream.



Embed Investment Functionality allowing companies to curate investment options, simplify trading and fund transfers, and facilitate robo-advisors for managed investments through existing Lynx Registered Investment Advisor (RIA) and broker-dealer partners.

With the launch of Lynx CDH Core, Lynx continues to drive innovation in the healthcare payments, banking, e-commerce, and investment space. For more information about Lynx and its products, please visit lynx-fh.com.
About Lynx:
Lynx is the premier API-first fintech platform for healthcare that unlocks APIs and end-to-end solutions to administer a broad selection of healthcare financial accounts and key wraparound services like e-commerce and investments. By helping clients embed these functions directly into their existing UI/UX, the platform makes it easy for consumers to access, manage, and engage with their healthcare and financial services like never before. Own the experience at lynx-fh.com.

Media Contact
Anna Stevenson
York IE
anna@york.ie