In today's digital age, managing a consumer-directed health (CDH) account, such as a Health Savings Account (HSA), Health Reimbursement Arrangement (HRA), or Flexible Spending Account (FSA), is very complicated. In addition to the complex tax implications and contribution limits that consumers have to sift through, day-to-day use of CDH accounts is confusing; whether it's understanding qualified expenses, carrying and utilizing multiple debit cards, or the financial literacy required to understand and take advantage of the investment options—consumers aren't set up for success when it comes to leveraging the significant benefits CDH accounts offer.
Beyond the intricate nature of managing CDH accounts for consumers, the reality is that administrators are required to piece together outdated legacy technology and establish partnerships with third parties to adhere to industry regulations and product demands. This leads to separate experiences on the front and back ends, making things even more frustrating for both organizations and consumers.
This process might entail a CDH account administrator collaborating with a bank or software provider to oversee the financial account. Additionally, a separate broker-dealer must be engaged to facilitate investments, while a Registered Investment Advisor is involved in managing the investment portfolio. Furthermore, a partnership within the e-commerce realm might be forged to enable individuals to utilize their CDH account funds—all managed through distinct, white-labeled single-sign-on experiences.
Introducing: Lynx
Consumer-Directed Health (CDH) Core
Lynx CDH Core introduces a revolutionary transformation in healthcare payments and stands as the sole solution that has implemented a unified API platform for comprehensive CDH account management. By leveraging programmatic APIs, Lynx not only empowers organizations to consolidate diverse requirements – encompassing banking, investments, e-commerce, and more – under a single partner, but also seamlessly integrate this experience across their user interface and customer service systems.

Furthermore, for the organizations that need support beyond APIs, Lynx exceeds the boundaries of conventional APIs by providing entirely white-labeled digital experiences, administrative functionalities, and reporting applications.
What does a Lynx-powered embedded experience entail?
Imagine a health plan offering members the convenience of managing their HSA, wellness incentives, and reimbursement options, right alongside the ability to check if their doctor is in-network, or getting their prescription mailed to their home, all through their mobile app and/or website. Lynx has introduced a platform that enables administrators to offer a CDH account as easily as a modern business accepts online credit card payments through platforms like Stripe or PayPal. With a unified API platform, organizations are no longer required to piece together disparate solutions for payments, banking, investments, and e-commerce.
Instead, they can accomplish this using a single API solution working as the bridge between healthcare and financial ecosystems.

Leverage Lynx programmatic APIs to offer features like investments and e-commerce as part of your core experience.
Furthermore, with Lynx, financial Institutions can envision a future where their HSA offering is seamlessly integrated into their core banking app, eliminating the need for a separately managed app and backend system partner. This integration would connect the HSA with their other customer products, allowing individuals to effortlessly manage their HSA alongside their checking account and credit card rewards.
This approach not only brings the clear advantages to organizations by reducing reliance on third-party systems and vendor costs, coupled with marketing and sales benefits, but it also empowers end consumers with a simpler and more streamlined user journey, ultimately saving time and money on healthcare.
This means consumers no longer need to navigate through separate, third-party websites to manage their healthcare expenses; instead, they enjoy a streamlined and immediate experience. By unlocking programmatic APIs and providing unparalleled flexibility, Lynx CDH Core is set to revolutionize how consumers interact with their health accounts, making it as effortless and integrated as the best experiences they encounter in other industries. For businesses, this means better operational efficiency, simplifying administrative duties, cost savings and potential new revenue streams—all the while creating a less complex and confusing financial health experience for their end users.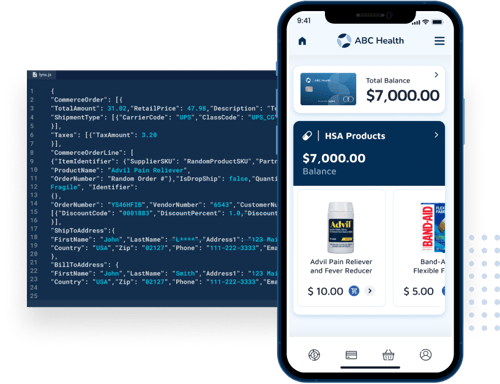 Make it easy for your customers to utilize their CDH dollars, and benefit from a new revenue stream
with access to Lynx e-commerce APIs.
Lynx stands as the only market solution providing businesses with an end-to-end API platform that enables them to unite all their CDH vendors and partners under one roof to create a customized and modern healthcare financial experience for their consumers. Engineered with a specific focus on eliminating these gaps, streamlining business operations, and ensuring a seamless consumer experience, Lynx takes the lead in achieving these goals and providing you with the versatility to tailor your approach to your unique needs.
With Lynx, you can decide whether you want to leverage our programmable APIs to directly embed a healthcare financial experience into your existing digital platform or whether you prefer to utilize a Lynx out-of-the-box white-labeled solution. Lynx offers the flexibility to fully own the consumer experience immediately or gradually transition to a fully owned experience over time.
Here are 5 key advantages of Lynx CDH Core:
Customize the CDH experience

with programmatic APIs.




Minimize Customer Friction

by removing single sign-ons (SSOs) and website redirects by seamlessly integrating and fully managing CDH accounts within a single customer experience.




Advanced Payment Processing

with physical or virtual cards that are restricted to only accept specific merchant categories, IDs, and even product SKUs at thousands of retailers. Lynx cards can also hold multiple bank accounts and funded benefits, eliminating the need for separate cards for each account type.




Embed E-commerce APIs

to integrate healthcare purchases into CDH account platforms, offering users access to a wide range of FSA- and HSA-eligible products, creating a new revenue stream.




Embed Investment Functionality

allowing companies to curate investment options, simplify trading and fund transfers, and facilitate robo-advisors for managed investments through existing Lynx Registered Investment Advisor (RIA) and broker-dealer partners.
Own your experience at lynx-fh.com or ​​click here to request a free demo today!